14 tags
How Are You Wearing Your Nails For New Years Eve?
Here are some great ideas for your nails for New Years! So easy to do! These gems were done by the CND team for Fashion Week. The photos are courtesy of CND. To score these babies this is all you need from any craft store and beauty supply: 1. Gold Leafing 2. Gold Nail Polish 3. Black Nail polish 4. Tweezer Create your french with gold and black, then top coat the entire nail, while the top...
10 tags
My Nails Making The News...
I spend so much time doing nails for other people and special events that rarely my own make it in tabloids.  check out the article called "The Best Manicures Of Beauty Insiders At New York Fashion Week 2012 that was posted by"Fear No Beauty" http://www.fearnobeauty.com/nail-tipped/story-time-the-nails-of-beauty-insiders-at-nyfw/ Thanks for visiting, By Candice Manacchio
11 tags
"Not Your Mother's Smooth Moves Frizz Control Hair...
So I received this "Not your mothers" Smooth moves frizz control hair cream and i really like it. I got to try this free in the http://influenster.com Vox box Beauty blogger program, I am not paid to review the product or paid to try it. I simply get it complimentary and review it. I love this program. Heres the product info: Not Your Mother's offers essential hairstyling products...
6 tags
GOODY Simple Styles Spin Pin Review!
Are you ready for the best hair tool or accessory of your life???!!! I may be great at makeup and nails, but not at doing my own hair! this is by far the best invention!!! I received this from http://influenster.com in my voxbox beauty blogger program for free. I am not paid to make testimonials or to try. I am given products for free and in return I give my honest feedback and review.  so...
5 tags
NYC New York Color Individual Eyes Custom Compact
Loving my new N.Y.C. custom compact! I received it free from http://influenster.com in their VoxBox Beauty Blogger program where I receive products free and in return i review them and give honest feedback. I am not paid to do so. My compact came in brown shades, I wear neutrals 99% of the time, what makes this compact unique for me is it comes with the primer inside and a cream highlighter which...
4 tags
BATH & BODY WORKS FALL MINI CANDLE
I am LOVING my "NEW" mini candle from Bath & Body Works. The scent is cider lane. I received it complimentary in mi Voxbox from Influenster. Its a cool program where you test out products for free and then give your honest feedback and reviews. This "Mini" candle packs a lot of punch! The scent is unbelievable and I honestly think this takes on a mega challenge with...
9 tags
CLICK ON THIS HEADING TO READ ABOUT MY TOP 10 NAIL... →
Are you a nail professional or a salon owner looking for ways to keep your clients loyal and coming back? And want to increase your profits? well my top 10 will tell you how. By Candice Manacchio Media Nail & Makeup Artist
21 tags
WHATS IN MY INFLUENSTER BEAUTY BLOGGER VOXBOX 2012
I LOVE BEAUTY PRODUCTS! WHAT GIRL DOESN'T? I JOINED INFLUENSTERS BEAUTY BLOGGER VOXBOX PROGRAM, ITS FREE, AND THEY CAREFULLY SELECT MEMBERS TO TEST OUT THE GOODS AND REVIEW THEM. IM NOT PAID TO DO SO, I JUST GIVE BACK MY HONEST FEEDBACK AND IN RETURN GET SOME FUN FREE PRODUCTS TO TRY? SO CHECK OUT WHAT I GOT: FIRST, I WILL START WITH MY FAVORITE OUT OF THE WHOLE BOX… THE SPIN...
14 tags
Some Fun Nail Style To Try Now... So Fun!!!
LET ME KNOW IF THERE IS ANY STYLE IN PARTICULAR THAT YOU WANT A STEP BY STEP ON HOW TO RECREATE AND I WOULD LOVE TO HELP YOU, FYI THEY ARE SIMPLE!!!! Creative Nails, Literally, at Fashion Week Christian Siriano, Monique Lhuillier, Rachel Antonoff,& Imitation of Christ SEPTEMBER 9, 2012 BY ADVICESISTERS LEAVE A COMMENT Nails are such an important part of a runway look, especially when...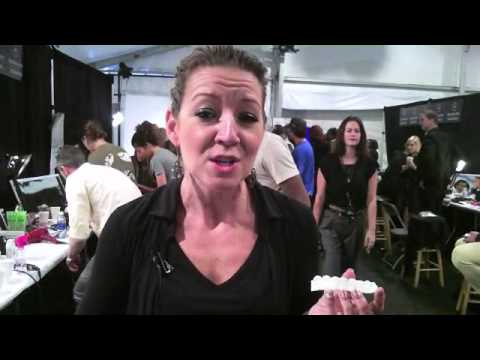 14 tags
Daily News Fashion Week Styles
The nails of NY Fashion Week! The nail art trends that let you recreate the look of the runway at home  Intricately detailed manicures have gone way beyond rhinestones, crystals and decals — in recent seasons, no designer would think of sending a model down the runway without a signature polish job, specially coordinated to compliment the collection. Comments (1) BY LINDSAY GOLDWERT / NEW...
12 tags
A Day In The Life Of Candice/Nail Pro During...
5:00 am Alarm Goes Off, Have to get ready to leave my hotel at 6:30am for a Call time of 7:00am First, COFFEE!!! No Time to stop and get breakfast, so I fueled up at the show, first show is the designer RODARTE, I pick healthier choice to keep me going instead of a carb crash later… MY choice, Fruit granola yogurt, egg fritatta, coffee Now, time to belt up and start polishing models...
9 tags
CLEAR SCALP & HAIR BEAUTY THERAPY
CLEAR SCALP & HAIR BEAUTY THERAPY™ The search for strong, beautiful hair is finally over. Introducing CLEAR SCALP & HAIR BEAUTY THERAPY™, a new line of shampoos and conditioners that will change the way women care for their hair. 99% percent of hair's natural strength and beauty comes from the scalp. For years women have been treating the ends of their hair, rather than the source — the...
7 tags
Quaker Soft Baked Banana Nut Bar
Quaker Soft Baked Bar - Banana Nut Bread Made with real bananas and almonds, Quaker Soft Baked Bars Banana Nut Bread flavor has tasty ingredients and key nutrients to help provide fuel to start your day. -5g Fiber* -20% daily value of 5 B Vitamins -6g of Protein *Contains 3.5g of total fat per serving Where to Buy You can find Quaker Soft Baked Bars at most major retailers. Suggested...
9 tags
Hawaiian Tropic Silk Hydration Lotion Sunscreen
Hawaiian Tropic Silk Hydration™ Lotion Sunscreen SPF 30 Also available in SPF 12, 30, 50! With its ultra-luxurious hydrating silk ribbons, Hawaiian Tropic Silk Hydration™ lotion sunscreen nourishes and pampers skin while providing broad spectrum UVA and UVB protection, and 12-hour moisturization when out in the sun. Where to Buy You can find Hawaiian Tropic products at most major retailers. ...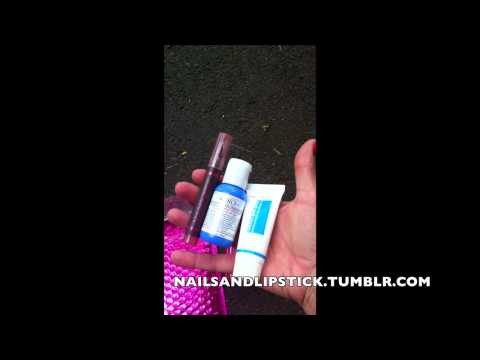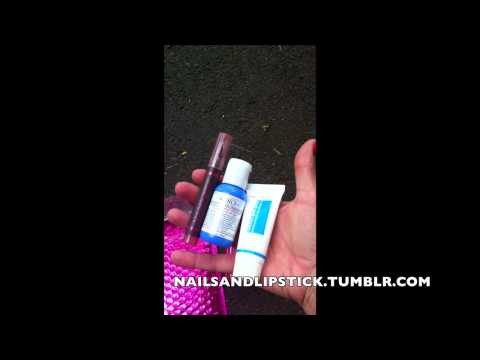 10 tags
Me & GLAMOUR Magazine....
Fall's nail art is "not about stars and rainbows," says CND ambassador Candice Manacchio. So what's cool now? Unique tips. Inspiration after the jump! The French mani was given an update at Rebecca Minkoff, where manicurist Emma Lara did two stripes of jewel tones… …and at Behnaz Sarafpour, thanks to foils. For this look, try CND Colour in Silver...
11 tags
My TV Appearance Preparation
How exciting to be on TV Right? Well, a lot of preparation goes into that quick 5 minutes. It looks easier than it is. First is really knowing your information and studying!!! I spent days of reading about the facts as well as googling the history of the companies.  The segment was about "Products Made In America" If you know me , I am a very LOUD and FAST talker haha, So, for me...
1 tag
8 tags
Check Out My Workout Of The Day
I Don't LOVE to workout, But, I LOVE the results it gives and the way I feel After.  The compliment I get all the time is my arms! All I do push ups and tricep dips, 3 times a week, and a LOT of lunges and squats. Im not trying to enter a swimsuit competition, I just want to eat what I want and not feel guilty, and feel energized! Well, Usually that pic would be Quac & Chips, but...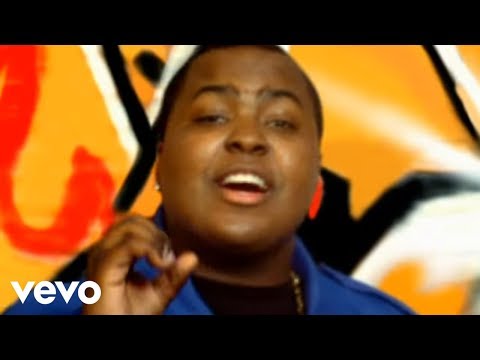 12 tags
Five Star Wedding???
I arrived to my brides parents home in Niantic, CT on Saturday, The house was beautiful, right on the water literally. From the minute I walked in the door, I have never seen so much detail put into a wedding… from this seating/floor plan above, the table seating cards to the wedding favors, everything was straight out of a catalog, it's amazing how much can go into one day. The...
7 tags
Now you see it, Now you don't...
CHECK OUT MY BRIDES TATTOO ON HER BACK SHE ASKED ME IF THERE WAS ANY WAY WE CAN HIDE THIS FOR HER WEDDING DAY, BUT, WITHOUT IT RUBBING OFF. IF YOU DIDN'T KNOW THIS ALREADY, YES THERE ARE TONS OF TATTOO COVER MAKEUP OUT THERE, HOWEVER, ONE RUB UP AGAINST IT AND IT'S COMING OFF!!! BIG NO NO WHWN IT COMES TO WEDDING DAY, A VERY EXPENSIVE WEDDING DRESS, OR EVEN… RAIN! SO, THATS...
4 tags
True Meaning Of Family...
THE BEAUTY OF FAMILY IS NO MATTER WHAT YOUR THERE FOREVER. WETHER YOU LIKE EACH OTHER ONE DAY AND NOT THE NEXT. I HAVE 2 SISTERS AND 1 BROTHER, AND EVEN THOUGH WE ARE NOT ALWAYS WITH EACH OTHER, WE ARE SO CLOSE. IT TAKES A LOT TO FINALLY FET US TOGETHER LIKE THIS FOR A NIGHT OUT. WE ARE ALL DIFFERENT AGES AND HAVE DIFFERENT LIVES. BUT WHEN WE FINALLY DO GET TOGETHER IT IS LIKE WE JUST WERE...
1 tag
1 tag
2 tags
14 tags
Now you see it, Now you don't...
CHECK OUT MY BRIDES TATTOO ON HER BACK SHE ASKED ME IF THERE WAS ANY WAY WE CAN HIDE THIS FOR HER WEDDING DAY, BUT, WITHOUT IT RUBBING OFF. IF YOU DIDN'T KNOW THIS ALREADY, YES THERE ARE TONS OF TATTOO COVER MAKEUP OUT THERE, HOWEVER, ONE RUB UP AGAINST IT AND IT'S COMING OFF!!! BIG NO NO WHWN IT COMES TO WEDDING DAY, A VERY EXPENSIVE WEDDING DRESS, OR EVEN… RAIN! SO, THATS...
5 tags
FASHION FRIDAYS.....
TODAY ON FASHION FRIDAY… MILLY Sometimes two brights make a beauty right. Case in point: The models at Milly's spring 2012 show wore CND Electric Orange on their nails and hot-pink matte lipstick on their lips. Since the hot hues are far away from each other (unless you go around with your hands on your lips, like this lovely lady), the overall vibe isn't too wild or clash-y. NAILS: ...
10 tags
INDOOR SMORES!
SO, MY FIANCE GENE AND I ARRIVE AT THE HYATT HOTEL IN NEWPORT RHODE ISLAND TO CHECK INTO OUR ROOM FOR A BLACK TIE CHARITY EVENT WE WERE GOING TO, AND IN THE LOBBY THEY WERE GIVING COMPLIMENTARY SMORES! THIS IS HOW IT WAS DONE INDOORS AND IT WAS SO GOOD HAHA, ALMOST LIKE A CAMPFIRE VERSION THE GIRL WAS USING WHAT LOOKS LIKE A BLOW TORCH TO BROWN THE MARSHMALLOW… I KNOW… AWESOME! ...
14 tags
WHAT'S FOR LUNCH?
ONE THING YOU MAY NOT KNOW ABOUT ME IS " I LOVE TO COOK" AND " I LOVE TO EAT" SO… I WANT TO START SHARING SOME OF MY SIMPLE RECIPES THAT I COME UP WITH. MON-THURS I TEND TO COOK /EAT HEALTHY, SO THAT I CAN JUST DERAIL IT ON THE WEEKENDS HAHA BUT, FOR NOW, HERE IS MY HEALTHY DISH **TUNA BOMB LETTUCE WRAPS*** THEY ARE SO DELICIOUS! AND SO LOW IN CALORIES, FAT AND...
10 tags
My Little "Secret" Literally!
EVERYONE ALWAYS ASKS: HOW DO I GET MY MAKEUP TO STAY IN THE HOT, HUMID SUMMER TEMPS?!? WELL, AS A MEDIA MAKEUP ARTIST, WETHER I AM WORKING A WEDDING, PHOTO SHOOT, OR EVEN APPEARING ON TV MYSELF, I PUT A SECRET ON MY FACE… HERE IS MEEEE GETIING READY FOR MY APPEARANCE ON THE TV SHOW "THE REVOLUTION" AND WANTED TO MAKE SURE I DIDN'T SWEAT ON CAMERA… SO I USED MY...
1 tag
14 tags
4th Of July Nails In 15 Minutes!
NOT SURE HOW TO WEAR YOUR NAILS FOR 4TH OF JULY? HERE'S A LITTLE INSPIRATION FROM ME ON WHAT IM WEARING, A SIMPLE RED GLITTER FADE, VERY EASY TO DO! HERES WHAT YOU NEED, AND SHOULD ONLY TAKE YOU 15 MINUTES!!!!  IN THIS PIC, I USED RED NAIL POLISH FROM CND CALLED "FLASHPOINT" WHICH WAS A BIG HIT AT FASHION WEEK! ALSO YOU WILL NEED RED GLITTER FROM ANY CRAFT STORE, TOP COAT...
7 tags
My Quote In This Months Issue.....
Editors Turn to CND for Expert Advice and Tips!   Hot Off The Presses June 29, 2012   June/July 2012 Health spotlights CND's Candice Manacchio as a go-to guru for nail advice. Candice answered one of salon goers' most burning questions: how to choose the right red for your skin.    (audience reach: 3,390,568)
4 tags
WHATS NEW WEDNESDAY...
New at Kohls: Simply Vera Vera Wang Cosmetics The line, available now exclusively at Kohl's stores and kohls.com, includes 16 different makeup products encompassing 74 shades, with prices ranging from about $16-40. Inspired by Vera's personal philosophy on makeup, the neutral-heavy palette feels fresh and modern to me, yet timeless and conservative. Here's a closer look at some of the pieces...
7 tags
TUESDAYS TRENDS.....
MELT-PROOF SUMMER MAKEUP TRENDS MELT-PROOF MAKEUP TIP #1: WEAR PRIMER "If you're going to be in any kind of weather and want your makeup to last, you HAVE to prime your skin using an oil-free primer and set it with a powder — you simply have to," says Kae. "I never leave the house without my Amazing Cosmetics Anti-Aging Face Primer, $34 and Amazing Cosmetics Powder Set,...
7 tags
Manicure Mondays
WHAT DOES YOUR NAIL POLISH SAY ABOUT YOU?!? CHECK OUT BELOW… hot pink: calling all bombshells The woman who wears hot-pink nail polish is chic, sexy and bold, says Catherine Baek, education manager at Orly. "To wear this feminine color, you have to be confident because it's eye-catching and people will notice," she says. How to wear it: Rock the sizzling hue on your nails with a neutral...
4 tags
WHATS NEW WEDNESDAY...
WHATS NEW WEDNESDAY… MY KIND OF MAKEUP… EFFORTLESS & CASUAL, LOVE THE COLORS! THE TINTED CREMES ARE FOR YOUR LIPS AND CHEEKS, FOR THAT LIGHT STAIN OR BLUSHING LOOK… A MUST HAVE! TOMORROW…THRIFTY THURSDAY BY CANDICE MANACCHIO XOXO
7 tags
TUESDAYS TRENDS.....
TUESDAY TRENDS… SNEAK PEAK OF WHATS TO COME IN FALL… YES , I KNOW IT'S NOT EVEN SUMMER, BUT, I AM AHEAD OF THE GAME BECAUSE OF MY INDUSTRY AND WANT TO KEEP YOU IN THE LOOP! AND.. I LOVE HOW ELEGANT & CLASSY THE STYLES ARE THAT I FEEL YOU CAN WEAR THEM NOW. SIMPLE HAIR, LOOSE BRAIDS, FABRICS WOVEN INTO HAIR… SOPHISTICATION & SIMPLICITY STRAIGHT TO YOU FROM...
6 tags
Manicure Mondays
NAIL FOILS… SO MANY COOL PATTERNS, COLORS AND SOLID COLORS THAT ARE SO EASY TO PLAY WITH AND APPLY. I JUST DID MY SISTERS NAILS FRIDAY NIGHT IN 5 MINUTES. HER NAIL POLISH WAS CHIPPING, AND RATHER THAN TAKE IT ALL OFF AND START OVER… I PRESSEND GOLD FOIL ALL OVER IN RANDOM SPOTS TO GIVE IT A DECONSTRUCTED LOOK. YOU CAN EVEN GET THE GLUE YOU SEE ABOVE AND THE FOIL WILL STICK TO...
5 tags
WHATS NEW WEDNESDAY...
May 2012 - As the weather warms up, sandals come out and Salon Professionals experience a surge in demand for pedicure services. Now, nail professionals can easily transform clients' calluses and cracked heels from scratchy to supple with CND's brand new, incredibly hygienic Callus Smoother.   The innovatively designed Callus Smoother features disposable, peel-away exfoliating...
Dr. Scholl's For Her Ball Of Foot Cushions Review
I was given this product to review from influenster.com, I am not paid to review this product. This product saved me last weekend at an event i went to that involved high heels and standing all night mingling at a work function. You know how the blood starts to all go down to your feet and ankle making them swell then your feet start to kill you, well, wearing these babies, my feet felt fine...
Sally Hansen Salon Effects Review
I am not paid by sally hansen to review the products, I am a member of influenster.com, they send me products to test, in return I review them and give my honest feedback! Sally Hansen Salon Effects Polish strips.. I thought it was different. I personally wouldn't wear them, but probably because Im in the Nail Industry and a Nail professional, however, for the everyday person that...
Soy Joy Review
I am reviewing this soy joy product as a member of influenster.com, I am not a paid spokesperson, nor am I paid to review this product. I love nutrition bars! This is soy joy in blueberry, I liked it. a little on the drier side, but still good. I would like to try it in strawberry, low calorie and gluten free. definitely a healthier option than junk food. I would get it again… A great...